What is a Clicker Wrench?
The Clicker-type torque wrench is the most commonly used torque wrench in the oil and gas industry today.
There's a good reason why: A clicker wrench is an affordable and extremely accurate tool — so long as you use it properly.
Clicker wrenches are not power tools, but a manual method to achieve proper torque (a.k.a. bolt load) on your fastener. They should be a part of any assembler's collection of hand tools in every oil and gas plant.
How do Clicker Wrenches Work?
Click Type Torque Wrenches are a ratcheting adjustable torque wrench, meaning you can adjust the applied force up or down within a given range.
Clicker wrenches have a housing that shows such force in either inch-pounds (in-lbs), foot-pounds (ft-lbs) or Newton Meters (Nm), which is used for metric torque settings.
In this article, we'll concentrate on foot-pounds/Newton Meters, and not micro-clicker torque wrenches (also called micrometer torque wrenches), which measure in inch-pounds because they are typically not used in heavy-duty industrial applications.
The typical click-type torque wrench comes with a manual adjustable setting, but there are also digital torque wrenches available. People may refer to these as electronic torque wrenches. Any of them can help an assembler achieve the desired torque on a fastener.
Most clickers are square-drive torque wrenches. They typically have a ratchet head with drive sizes of 3/8″, 1/2″, or 3/4″. However, most assemblers need to have open-ended attachments for the low clearance issues whey often encounter in the field.
When a clicker wrench is pulled to the point of the torque setting, the lever inside the wrench rolls over a cam and hits the inside of the wrench handle wall. This effect makes the "click" sound, and tells the operator that they have reached the desired torque value.
A Brief History of Clicker-Type Torque Wrenches
It's generally accepted that the first clicker wrench was created by Conrad Bahr at the New York City Water Department in 1918. He was tired of having inconsistent bolt loads on his fasteners, so he decided to fix it by making a torque wrench that would apply the same load consistently.
(FUN FACT: Torque Wrenches are 100+ years old and most people still don't know how to use them properly!)
Bahr wasn't the first to attempt to patent the idea, however. The first patent for a torque wrench was filed by John H. Sharp in 1931. What he then called a "torque measuring wrench" is what we today know as a beam-type torque wrench.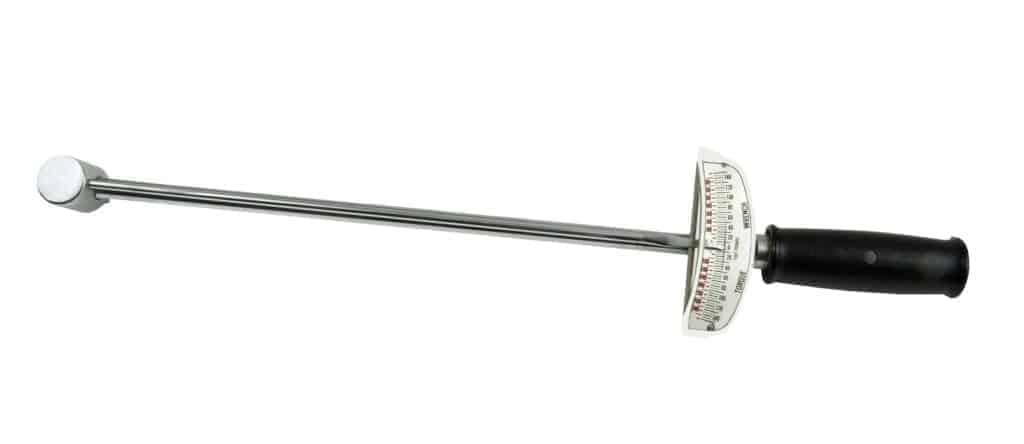 But Bahr was not to be left behind. In 1935, Bahr and George Pfefferle patented an adjustable wrench that had ratchet head and that would provide the assembler "audible feedback" — i.e. the "click."
Bahr also made sure to include a mechanism that prevented the wrench from back-ratcheting when the desired torque on the fastener was achieved.
I would say that Conrad Bahr is a hero in the torque wrench world!
Torque Range for Clicker Wrenches
The preset torque ranges for clicker wrenches range from 10 ft-lbs to 2,000 ft-lbs. Different torques come in different drive sizes. The typical sizes you'll see in heavy industrial applications are:
3/8″ square drive size: Typical torque range of

10-150 ft-lbs

. These are great for areas that you have wrench clearance issues for the length of the torque wrench.
1/2″ square drive size: Typical torque range of

30-250 ft-lbs

. These are the most used in the industry and every assembler should have one, or at least have access to one. Also this is the drive size we typically see the low profile adapters used with.
3/4″ square drive size: Typical torque range of

100-600 ft-lbs

. While these can produce a good amount of torque on the fastener, they are about 4 feet long, so they might not fit on every application.
Through years of tracking use in the field, Hex Technology has found that 82.3% of applications in the Oil and Gas Industry can be assembled with a click torque wrench that can achieve 250 ft-lbs. That's nearly the same percentage for the Chemical Industry too.
While manufacturers do make 1,000-foot-pound and 2,000-foot-pound clicker wrenches, they should be treated as a last resort, used only when there is no other option.
Why? Simple: These wrenches are a BEAST on assemblers.
You have to generate 200 to 300 pounds of force on the end of the wrench in order to make achieve your torque. That requires a lot of strength — especially when you consider that they might have to touch 24 studs 4 times if you are using the star method of assembly.
So while a high-torque manual clicker wrench seems like an ok idea in theory, in practice, in order to achieve that level of force, the assembler is either going to have to bounce on the wrench in order to get it to click, or will just become exhausted during the assembly.
Bottom line: If you're in a situation that requires a 1,000-foot-pound torque wrench or greater, see if you can opt for powered equipment to achieve the torque you are trying to reach.
Clicker Torque Wrench Accuracy, Calibration and Recalibration
Standard ISO 6789 covers the construction and calibration of hand-operated torque tools, including standard torque wrenches and even screwdriver-type torque wrenches.
The standard states that re-calibration for tools used within their specified limits should occur every 12 months. In cases where the tool is in use in an organization which has its own quality control procedures, then the calibration schedule can be arranged according to company standards.
Each calibration sheet should be marked with their torque range, the unit of torque, the direction of operation for unidirectional tools (some tools only allow you to go in the clockwise direction) and the manufacturers mark.
If a calibration/recalibration certificate is provided, the tool must be marked with a serial number that matches the certificate or a calibration laboratory should give the tool a reference number corresponding with the tool's calibration certificate.
The accuracy of clicker wrenches should be between 3 and 5%, depending upon the manufacturer. And as with any other tool under ISO 6789, they should be calibrated at a minimum of every 12 months.
NOTE: It is common practice — and a very good idea — to also field check the accuracy of these tools between calibration dates.
To do this, you can request a load verifier from the tool manufacturer, place it within your plant, and use it to check that your wrench hasn't fallen out of calibration.
How to Use a Clicker Wrench
While Clicker Wrenches are accurate, the inaccurate part is the human being. So you've got to watch out.
We'll often combat inaccuracy by putting clicker wrench checkers in the field. Not only does this validate that the wrench is doing what it's supposed to do, but it also helps to make sure that the human operating the tool is doing what he or she is supposed to do.
Before using a clicker wrench, you want to check that the wrench is set to the desired torque value. When applying force to the wrench, you want to do so evenly — not by jerking, yanking, or jumping on the implement.
Also note: torque wrenches are pretty sensitive. You need to take care when using and handling them. Dropping, hitting, or banging the wrench can change the output of the calibration.
Also, if you don't completely unwind it to less than 20% of the total scale, you can bend the internal works too much, and they won't return to their original shape. That will affect your torque value, and may invalidate your calibration.
Other Torque Wrenches You May See
Complexity is the enemy of completion.
Where many people think that technology can compensate for a lack of training or skill, we've seen time and again that it doesn't. Which is why manual click-type torque wrenches remain the go-to tool for the bolting industry.
If you combine this relatively simple tool with a well-trained assembler, you'll achieve good results.
There are several other types of wrenches available, which we'll describe below. However please be aware these tools might complicate your procedure process.
Electronic torque wrench
With electronic (indicating) torque wrenches, have a strain gauge attached to the torsion rod, which sends a signal to the transducer and is then converted to a torque value. They typically have a digital display.
Programmable electronic torque/angle wrenches
These are very similar to the electronic torque wrench, but they use a low torque value followed by moving the nut a certain amount of an angle.
The angle measurement is done by a sensor or electronic gyroscope. This design of torque wrench is highly popular with wind power and automotive manufacturers for documenting tightening processes requiring both torque and angle control.
Mechatronic torque wrench
Torque is achieved in the same way as with a click-type torque wrench but it has a digital readout screen (like an electronic torque wrench).
These wrenches also typically have some sort of wireless data transmission with a computer interface so that you can document what torque was applied. We joke that they beep, vibrate, and have flashing lights, so all that's missing is your old man sitting behind you saying "Stop, stupid!"
There are also manufacturers that are really good at making micrometer torque wrenches like Tekton and GearWrench, but typically we see CDI (a Snapon Company) or Proto Tools in the oil and gas industry for manual wrenches.
RELATED: 
Bolt Lubricant and Torque, Explained
PTFE Coated Studs: Do They Work? 
Join Industry Leaders!
Subscribe to Hex Technology today and we'll give you $700 in bolting courses, FREE. Your path to a safer, more reliable, more profitable site starts here.